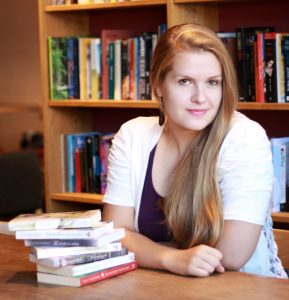 Gaja Kolodziej (1989) is a novelist, a psychologist, and a translator.
Since 2012 she has been a member of the Polish Writers' Association, and in the tenure 2014-2017 she worked as its Board Secretary. Moreover, in 2015-2017 she was a board member of the Foundation of the House of Literature and Creative Work Houses.
In 2013, she established the Literary Art Institute (www.LiteraryArtInstitute.com), which aims at promoting readership and supporting new literary talents. She organises writing contests, teaches teenagers and adults creative writing, and considers authorship the essence of her life.
So far she has had over 100 author meetings countrywide.
Gaja Kolodziej has a master's degree in psychology from the Maastricht University in the Netherlands. In the academic year 2016-17, she took part in a postgraduate course  in creative writing at the Institute of Literary Research of the Polish Academy of Science. Currently, she resides in New Zealand, where she writes her first novel in English as part of PhD studies in creative writing at Massey University.
Apart from writing, she pursues her other passions: she travels the world, practices martial arts, and learns Asian languages.